Japan Business Publishing Co., Ltd. (https://www.japanbusiness.co.jp/)


2002


Head Office
4th Fl. 5-2-1, Minami Aoyama, Minato-ku, Tokyo 107-8550
Nearest Station: Tokyo Metro Omotesando Station, Exit A5 (1 Minute's walk)


Takadanobaba Office
13th Fl. 3-8-2, Okubo, Shinjuku-ku, Tokyo 169-0072
Phone: 03-5287-8600 Fax:03-5287-8601
E-Mail: info@kankyo-business.jp



Publishing
Quarterly publication "Environmental Business" (media information)
Website "Environmental Business Online" (media information)
E-mail newsletter "Weekly Environmental Business"
Planning, editing, publishing, and sales of customized books
Planning, editing, and publishing ebooks
* To place an advertisement in any medium, please refer here.

Seminar & Event Business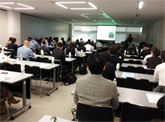 Planning, running, and holding seminars / lectures
Planning and holding trade shows and forums regarding environmental business
Planning and holding overseas inspection tours / business matching tours regarding environmental business
Planning and running press conferences
Recruiting Business
Support in Sales and Promotion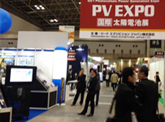 Information services on subsidies
Planning and setting up booths for trade shows
Planning and creating business brochures
Planning and creating company brochures
Planning and creating websites
Planning, creating, and sending DM
Document translation
Business matching with Japanese companies
* "Environmental Business" Service Summary *
The quarterly publication "Environmental Business"
Basic information
Dates of issue: Sep.15(autumn), Dec.15(winter), Mar.15(spring), Jun.15(summer)
Circulation: 45,000 copies
Price: ¥1,200 (tax included)
Format: A4 variant
Sales methods: Leading book shops nationwide, online sales, periodical subscriptions
Overview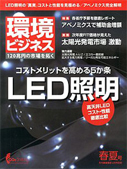 The quarterly publication Environmental Business is a business magazine specializing in providing information on specific measures to promote environmental business for corporations and regional governments. It pays attention to the domestic and international trends and provides information on successful cases, know-how, subsidies, laws/regulations, etc. that are applicable to business practices for promoting environmental business. Our readers are practitioners engaged in environmental business at corporate environment promotion divisions, environmental business divisions, new business development divisions, and at central ministries/agencies and regional governments.
Download the media information (pdf)



Website "Environmental Business Online"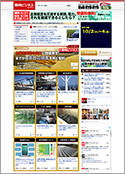 Basic Information (as of May, 2013)
Monthly page views: 800,000 page views
Monthly unique users: 200,000 unique users
Overview
Environmental Business Online is a website that delivers up-to-date relevant environmental business news and the latest information on environmental subsidies (covering Governmental, Prefectural, and Municipal), on environmental businesses and new products of various companies, and on relevant trade shows and seminars. Search keywords related to environmental business tend to appear higher up.
Ex) "PV", "Fuel cell", "Water boiler", "LED lighting", "Law revision", etc.
Download the media information (pdf)



E-mail Newsletter "Weekly Environmental Business"
Basic Information
Date of delivery: Tuesdays (When coinciding with a national holiday, there will be no issue or a special issue)
Circulation: 48,000 (as of April, 2013)
Price: Free
Overview
We deliver environmental business information specially selected by our editorial team, including news, subsidy information, and event information that practitioners in environmental business should know, free of charge. Instant, effective advertising results can be expected.
Download the media information (pdf)



Basic Information
Sponsor: Japan Business Publishing
Themes: Seminar themes include PVs, LEDs, BEMS, Smart Grids, etc.
Venues: Tokyo, Sapporo, Sendai, Nagoya, Osaka, Hiroshima and Fukuoka
Merits of co-sponsorship
PR and promotions for co-sponsors' products will appeal to seminar participants. Our seminars offer precious opportunities for our co-sponsors to directly appeal to interested visitors, where highly effective sales promotion can be achieved.
Planning content:
Deciding on a seminar theme
Selecting a speaker
Attracting participants
Running the day's seminar
Creating information materials
Following-up participants
Governments
The Ministry of Environment, The Ministry of Agriculture, Forestry and Fisheries, Saitama Prefecture, Kanagawa Prefecture, Shimokawa Cluster, Hokuto City, Sado City

Manufactures
Ajinomoto, Azbil Corporation, NTT Docomo, Endo Lighting Corp., Green Tec Corporation, Koizumi Lighting Technology Corp., Sanyo Electric, JX Nippon Oil & Energy, Soda Nikka, Dai Nippon Printing, Tajima Roofing Inc., Tamachi Electric Industry, T-Net Japan, Tokyo Gas, Tokyo Electric Power Company, Toshiba, Nichiei Intec, Nissan Motor, Nihon Techno, NEC Corporation, Hilti (Japan) Ltd., Noritz Corporation, Panasonic, Panasonic System Networks, Panasonic Denko, Mitsubishi Electric Living Environment Systems, Yasukawa Electric Corporation, Looop, etc

Sales, Trading, Distribution, Services
SEM Daikin, NYY Facilities, Epson Sales Japan, Otsuka Corporation, K-Mix Corporation, Kokusai Kogyo, JFE Engineering Corporation, Newest Corporation, Daikin Industries, T-Support Center, Takashima, Hashimoto Sogyo, Mitsubishi Electric Lighting, Wajojuden (Listed in the Japanese syllabary order, part of the whole list)

Finance, Consulting, Trade-show organizers
Carbon Free Consulting, SEMI Japan, Nippon Kaiji Kentei Quality Assurance Ltd., Sumitmo Mistui Banking Corporation, Reed Exhibitions Japan Ltd. (listed in the Japanese syllabary order, part of the whole list)

Foreign capital companies/organizations
EU Gateway Programme, Canadian Solar Japan, Korea Trade-Investment Promotion Agency (KOTRA), Suntech, JA Solar, GW Solar, Hanwha Q CELLS Japan, UHC Solar (listed in the Japanese syllabary order, part of the whole list)

Associations, Academic societies, Organizations
Flat Glass Manufacturers Association of Japan, Decoration LED Lighting Spread Association Japan (DLEDA), Japan LP Gas Association, Vinyl Environmental Council, Foundation for Promoting Personal Mobility and Ecological Transportation, JETRO, The Illuminating Engineering Institute of Japan, Japan Lighting Manufacturers Association, Japan Science and Technology Agency, Nagoya Chamber of Commerce and Industry, Japan Management Association, The Building-Energy Manager's Association of Japan, etc

Advertising Agencies, Publishers
Chugai, Nikkan Kogyo Advertising, The Nikkan Kogyo Shimbun, Nikkei Advertising, Nikkei Sangyo Kokokusha, Nikkeisha, Hakuhodo, Hakuhodo DY Media Partners, Meikosha, Yomiuri Shimbun, etc